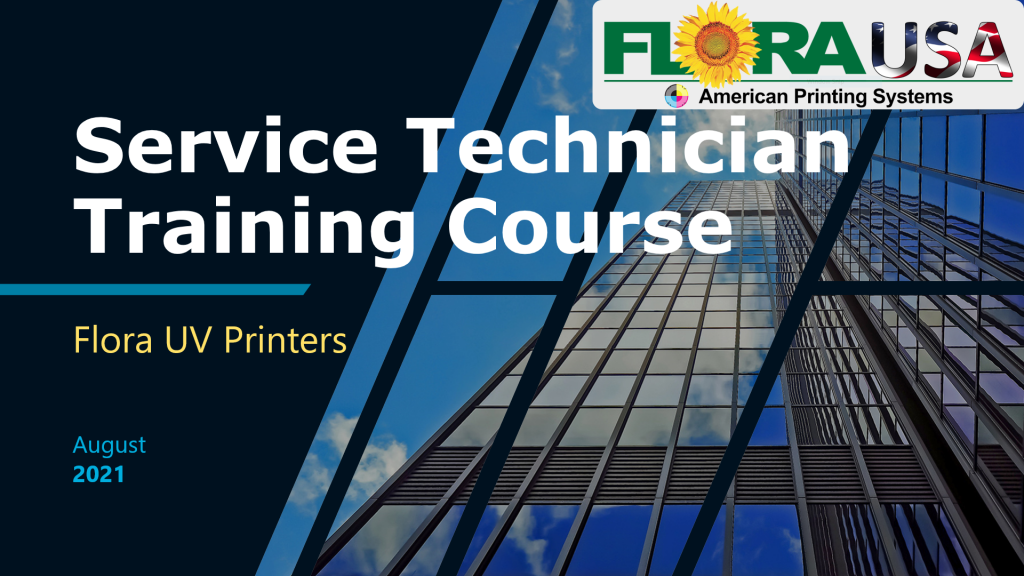 FloraUSA has just announced a dealer Service Technician Training Course that will take place at our offices in Wharton NJ.
Who should Attend:
Resellers technical support personal.
Limit class size to 4 to 6 people
What will be covered:
Introduction to current Printer Models, features and specifications.
Introduction to the printer's systems and components.
Installation of a new printer from removing it from its crate to installing print heads, software and calibrations.
Operation and Routine Maintenance for the printers.
Standard Troubleshooting of Error Messages and Diagnostics.

Hands on experience with the following equipment:
Demo XTRA 2512 that needs to be uncrated and calibrated. This printer will be uncrated and installed in our showroom as a demo unit.
Demo Hybrid Xtra2000H with LED Lamps.
Older model PP2512 with Konica 512 heads with UV Halogen lamps.
Older model PP2512 Ricoh Gen 5 with UV Halogen lamps.
Older model PP2512 with Konica I 1024 Heads with UV Halogen lamps.
Where:
American Printing Systems
105 West Dewey Ave, Suite 318
Wharton, NJ 07885
When:
Dates: Tuesday, Wednesday, Thursday August 24 thru 26 9AM thru 5 PM

Contact Information
Office Number 862-437-1457
Dave Philipps Ext 112
Chris Philipps Ext 116 
Krista Philipps Ext 125
Nearby Hotels
Hilton Garden Inn Rockaway
375 Mt Hope Ave, Rockaway, NJ 07866• (973) 328-0600

Homewood Suites by Hilton Dover – Rockaway
2 Commerce Center Dr, Dover, NJ 07801• (973) 989-8899

TownePlace Suites by Marriott Dover Rockaway
4 Commerce Center Dr, Dover, NJ 07801• (973) 659-9999

Courtyard by Marriott Rockaway-Mt. Arlington
15 Howard Blvd, Mt Arlington, NJ 07856•(973) 770-2000

Holiday Inn Express & Suites
176 Howard Boulevard , Mount Arlington, New Jersey 07856• (973) 770-7880
Morning snack and lunch will be provided all three days.